Varmasti monella on kynsilakkahimotuksia, eli niitä tiettyjä kynsilakkoja, joita tulee aina kaupassa hypisteltyä ja pyöriteltyä, mietittyä kaikkia kivoja juttuja, mitä niillä voisi tehdä.. Ja sitten se pullo tulee kuitenkin aina lopulta jätettyä sinne hyllyyn.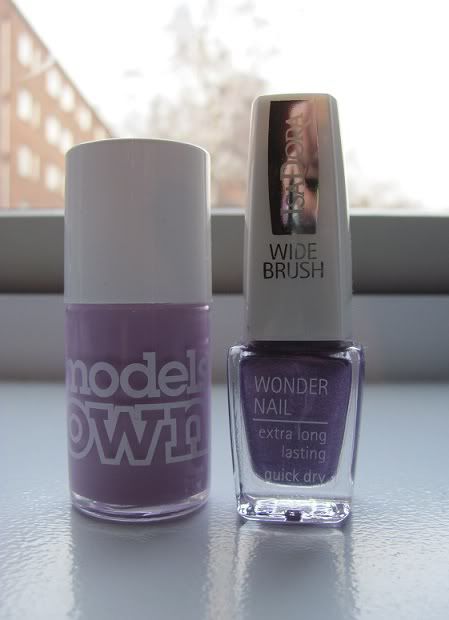 Isadoran Sweet Violet on ollut jo kohtalaisen pitkään tällainen lakka allekirjoittaneelle. Kun sitten vihdoin roikkui hyllyn päässä "-30%" -lappu, ei tämä unelma palannutkaan hyllyyn hypistelyn jälkeen. Se siitä lupauksesta olla ostamatta lisää violetteja lakkoja...
Pohjana Models Own Lilac Dream, Konadointi Isadora Sweet Violet ja laatta m71. Ihanan hempeä ja tyttömäinen yhdistelmä!
(..minäkö muka hulluna violetteihin..)
Sweet Violet toimii tosi kivasti leimailuun ainakin näin vaalealla pohjalla. :)
Sweet Violet looks a bit too blue on the first pictures. The colour of it is more like how it seems in this picture.
I found this quite perfect combination: Models Own Lilac Dream and Isadora Sweet Violet - super sweet and girly combo! Stamping with Konad plate m71.
Sweet Violet works nicely for stamping, atleast with a light base like this.