Galaxy Girl on syypää siihen, että ihan alkujaan kiinnostuin Orlyn Cosmic FX sarjasta (..ja kalliista kynsilakoista..). Sen kanssa toisaalta myös arvottiin pitkään, että haluanko minä sen vai en, koska tästäkin löytyi swatcheja vähän molempiin laitoihin - ihania ja tosi kamalia. Kertoo myös paljon siitä, kuinka hurjan mukava tätä lakkaa on kuvata!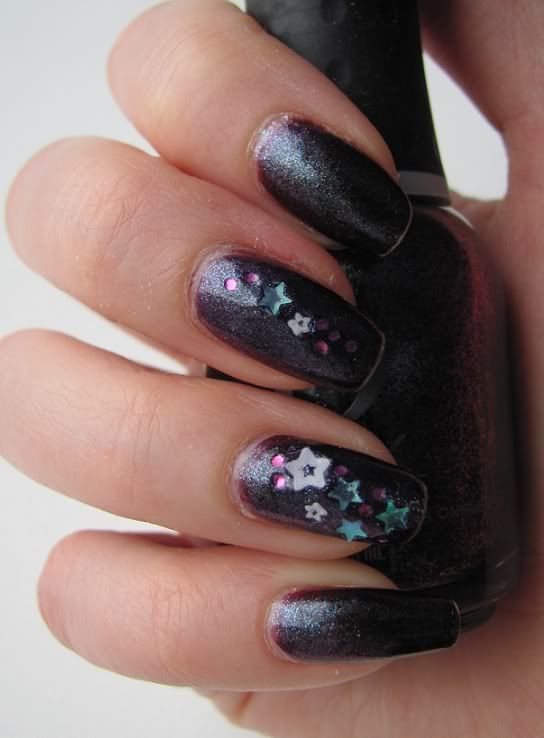 Orly Galaxy Girl
Luonnossa tämä on hyvin jännä lakka. En edes yritä sitä sen kummemmin kuvailla, kun en osaa enkä tiedä oikeaa termistöä. Mutta tykkäsin kuitenkin - tämä on "veljensä" Space Cadetin tavoin hyvällä tavalla erilainen. Erityisesti tykkään tuosta vaaleansinertävästä sävystä, joka erottuu tietyssä valossa (näkyy noissa alemmissa kuvissa).
Koristelut yritin kehitellä hieman tuon lakan värimaailmaa ja avaruusteemaa miettien, eli sinivihreitä ja valkoisia tähtiä sekä pinkkejä glitterhippuja nimettömiin ja keskisormiin. Kokonaisuutena tämä toimi ihan mukavasti ja lakka pysyi päätähtenä olematta kuitenkaan tylsä :3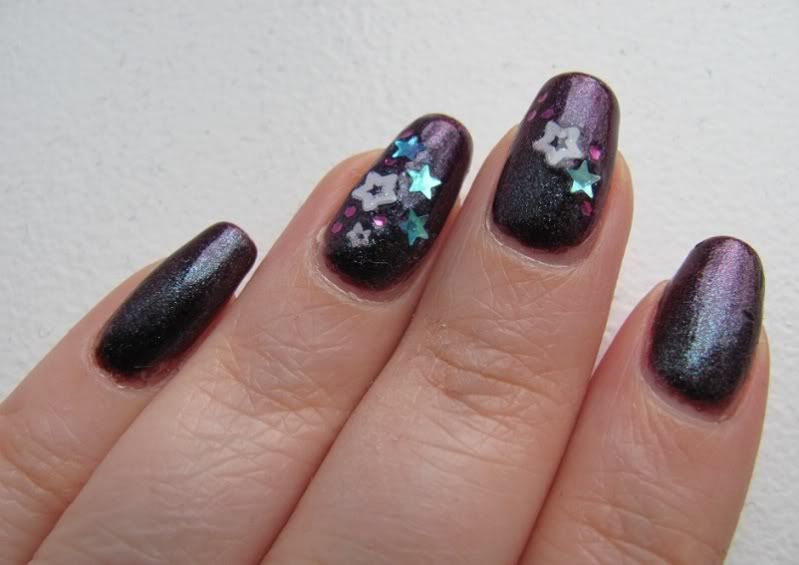 Right hand...
..and left hand.
Orly Galaxy Girl is kinda weird nailpolish. Weird in a good way. I won't even try to describe the colour or anything cause it would be too hard! But I really like it!
With the decorations I tried to stay on the space theme and the colour of the nailpolish itself. So white and blue-ish stars and pink glitterpieces! I think I succeeded with keeping Galaxy Girl the main star but giving it "a little something" to keep it from being boring :3