Tänään olenkin ahkera, ja teen toisenkin postauksen!
Prinsessakynsiä
tehdessä huomasin OPIn Last Friday Nightin muistuttavan hyvin paljon Wild and Crazyn Wild & Desperatea ja ajattelin sitten tehdä tällaisen pienen vertailun.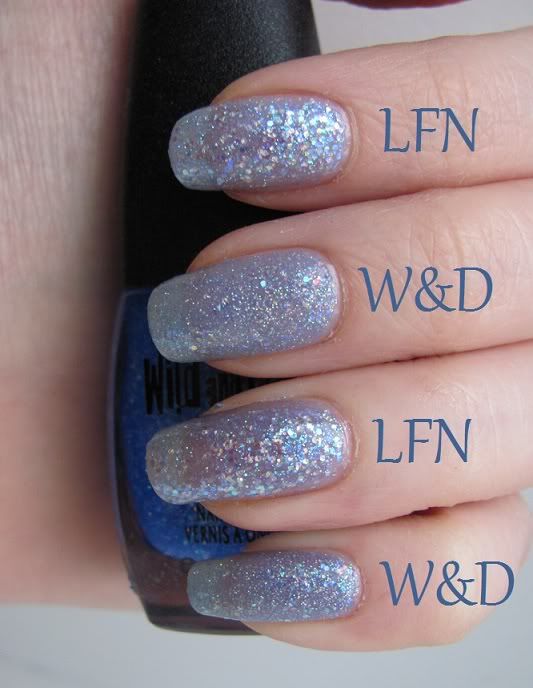 Etusormessa ja nimettömässä siis Last Friday Night (LFN), keskisormessa ja pikkurillissä Wild & Desperate (W&D). Kynnellä nämä ovat sävyltään hyvin samanlaiset. LFN on pohjaltaan läpikuultavampi ja sitä onkin kuvissa yksi kerros W&D:ta enemmän - W&D:ta kolme kerrosta, LFN:ia neljä. Molemmat lakat kuivuvat yhtäläisen nopeasti, joten kerrostaminen ei ollut ongelma kummankaan kanssa. Enemmän blingiä löytyy LFN:sta, jossa on huomattavasti isompia glitterhippusia. W&D on tasaisempaa ja hienompaa glitteriä, mutta myös pohjaltaan sinisempi, eli sinisyyden erotti paremmin jo ensimmäisellä lakkakerroksella.
Last Friday Night on hieman huonosti saatavilla tuon Katy Perry kokoelman suuren suosion vuoksi, mutta Wild & Desperate löytyy varsin yleisesti ainakin Seppälöistä. Hintaeroakin on hieman, eli Wild and Crazyn hinta on muistaakseni alta 4€ (14ml), OPIn hinta vähän paikasta riippuen, mutta Suomessa kaupoissa yleensä päältä 15€ (15ml).
Eli jos joku etsii halpaa vastinetta Last Friday Nightille, niin Wild & Desperate pääsee varsin lähelle pienistä eroista huolimatta.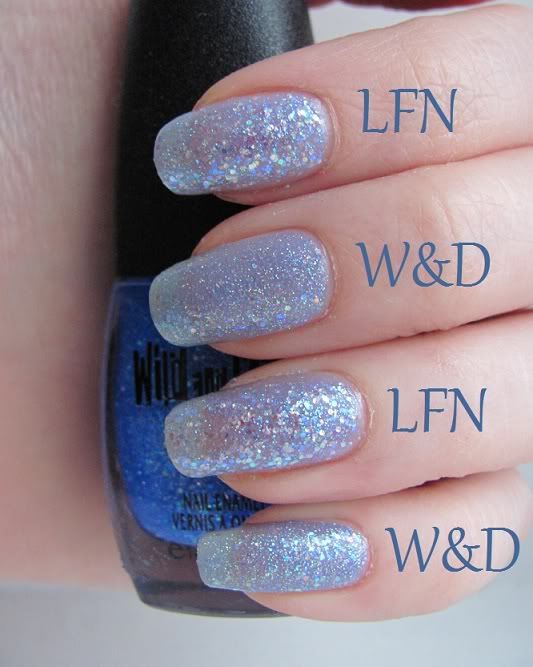 After my
princess nails
I had to do a quick comparison between OPI's Last Friday Night and Wild and Crazy's Wild & Desperate! These two are pretty similiar colour-wise. Both of them dry fast so layering was easy. LFN is more sheer and I needed one more coat of it to get similiar looking result on both of them (3 coats of W&D, 4 of LFN). LFN in more bling with bigger glitters but the base of W&D is more blue (so you could actually see it's blue after one coat).