Iso kasa uusia lakkoja, iso kasa lakkoja, jotka jouduin jättämään vanhempien nurkkiin pyörimään Norjaan edellisen kerran matkatessa. Ideoita löytyy ihan liikaa - voi kun olisi enemmän kynsiä ja enemmän aikaa!


Näiden kynsien kanssa meinasi mennä hermot jokusen kerran. Aika pahasti. Ja näitä tehtiin kauan ja hartaasti, ja ennen Konadointeja ajatuksena oli lähinnä "yritys hyvä, mutta eihän siitä nyt tullut yhtään mitään" - näytti aika kamalalta. Mutta Konadit toimivat kuin taika, ja ihan kamalat kynnet muuttuivatkin ihan kamalan ihaniksi. En ymmärrä, mutta kovin minä näihin ehdin päivän aikana tykästyä.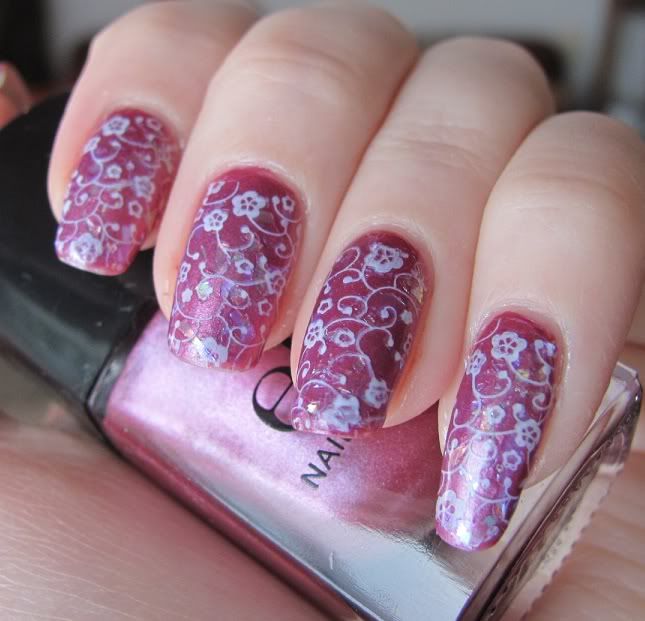 Jotain vanhaa, jotain uutta, eli pohjana kaksi kerrosta ELF Sunsetia
(mikähän mielenhäiriö mulla oli, kun tämän jätin ottamatta mukaan silloin ..)
, päällä Color Club Covered in Diamonds ja viimeisenä
(muttei tässä tapauksessa lainkaan vähäisimpänä)
Konadit uudesta m73 laatasta Konadin Special White Pearl lakalla. Lakkaa on kynsillä kaikkiaan noin miljoona kerrosta, mutta sainpahan sen pinnan tasaiseksi sitten loppujenlopuksi!
These nails took ages and gave me loads of grey hairs! Before the Konad-stamping it looked absolutely terrible but Konad did some magic - the really bad nails turned into really nice nails! Don't really know how it happened but I ended up liking these a lot!
2 coats of ELF Sunset, Color club Covered in Diamonds and Konad plate m73 + Konad Special White Pearl.
//edit. Fixed the pictures to a tiny bit better quality after I got back home! :)