Tätä postausta olen yrittänyt saada kasaan jo useamman päivän ajan. Jostain syystä ajatus ei vain ole kulkenut kirjoittamisen vaatimalla tasolla - mutta josko tämä tästä! Anyways.
Lauantaina matkattiin kaupungin toiselle laidalle Kicksiä etsimään.
Pikkulinnut
lauloivat, että Oslon Kicksistä löytyisi OPI:N Katy Perry kokoelmaa ja vaikka tuosta informaatiosta olikin jo hetki kulunut, piti sitä päästä tarkistamaan - ja tarvitsin joka tapauksessa kynsilakanpoistoainetta, eikä täällä "tavallisista" kaupoista saa yhtään mitään.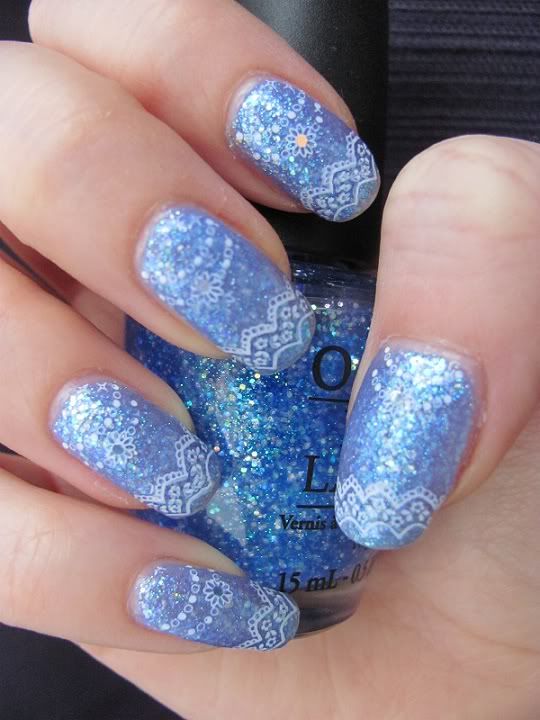 OPI Last Friday Night (5 coats)
Kicks löytyi, ja Katy Perry -standikin oli paikallaan - joskin varsin tyhjä - 3 pulloa The One That Got Away:ta, 2 pulloa Last Friday Night:ia ja yksi pulloa Not Like the Movies:i
a. Lähinnä olin kiinnostunut vain kokoelman glitterihanuuksista, joten nappasin matkaan Last Friday Nightin, vaikka Teenage Dream jäikin löytymättä. Ja uutta ihanuutta piti tietysti päästä heti testaamaan!
OPI Last Friday Night (3 coats)
Tein näistä prinsessakynsistä kaksi versiota. Alkuperäinen oli kolme kerrosta LFN ja Konadoinnit valkoisella laatoilta m71 ja m40. LFN jäi varsin hailakaksi, paljon vaaleammaksi siniseksi, kuin miltä se pullossa näyttää. Kolmella kerroskella lopputulos on myös hieman läpikuultavaksi, mutta pidin tuosta taivaansinisestä glitterisyydestäkin kovasti. Lisäksi lakka kuivui varsin nopeasti, joten kerrostaminen ei ollut kamalan iso ongelma.
...3 coats...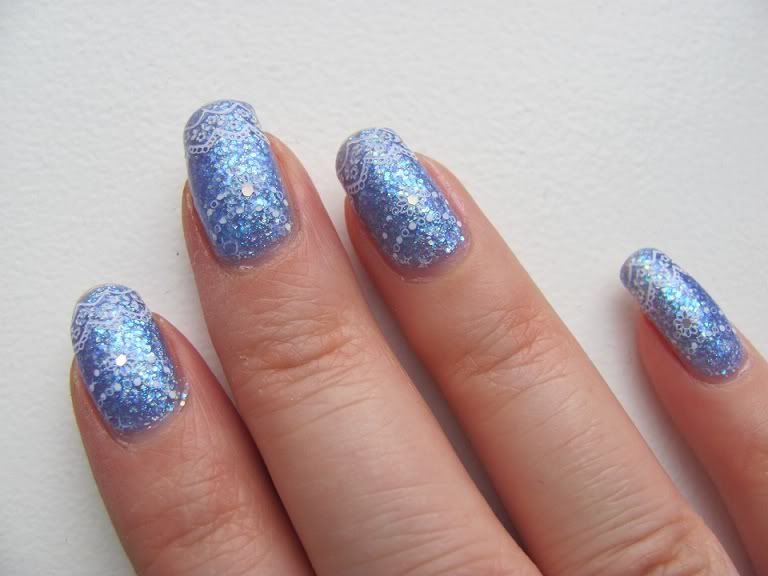 ...5 coats...
Seuraavana päivänä jatkoin kerrostamista toisen käden kynsille. Kaksi lisäkerrosta toi väriin jo enemmän kirkkautta ja peittoa. Silti väittäisin, että tämä lakka vain sopii paremmin jonkun toisen lakan päällä käytettynä. Kaunis se silti on :) Ja meillä mies totesi tuon vaaleamman version näyttävän paljon kauniimmalta, kuin miltä lakka pullossa näyttää.
I really wanted the 2 glittery dreams from OPI's Katy Perry -collection but I only managed to get the blue one - Last Friday Night. I did 2 versions of these princess nails - 1 with 3 coats of LFN and another with 5 coats. With 3 coats it's very sheer and light. 2 more coats give more brightness and make it opaque. The layering wasn't a big problem since the polish dries fast and is quite easy to apply (for a glitter that is).
I like both versions but I still think it might work best if you use it on top of some other nailpolish.

My

fiancé even said the lighter blue (3 coats) looks a lot better and it's more beatiful than how it looked in the bottle :)