Selvisin vihdoinkin takaisin kotiin ja nyt tuntuu siltä, että voisin nukkua pari päivää putkeen. Viikon verran tuli nukuttua varsin vähän ja varsin huonosti ja päivät meni kaupungilla asioilla juostessa ja muuten vaan touhottaessa. Ennen Suomenreissua vietin vielä viikonlopun pohjoisessa, joten matkustuspäiviä kertyi viimeiseltä puoleltatoistaviikolta aika runsaasti, ja kotipäiviä tasan yksi.
Ennen lähtöä osallistuin
Sonnelan
teemalakkauskisaan ja tein kynnet molempiin teemoihin. Reissaamisen vuoksi en noita kynsiä ole aiemmin päässyt esittelemään, mutta ehtiihän noita.. Ensimmäisenä esittelen teille Väripläjäykseni, joka ei siis selvinnyt finaaliin.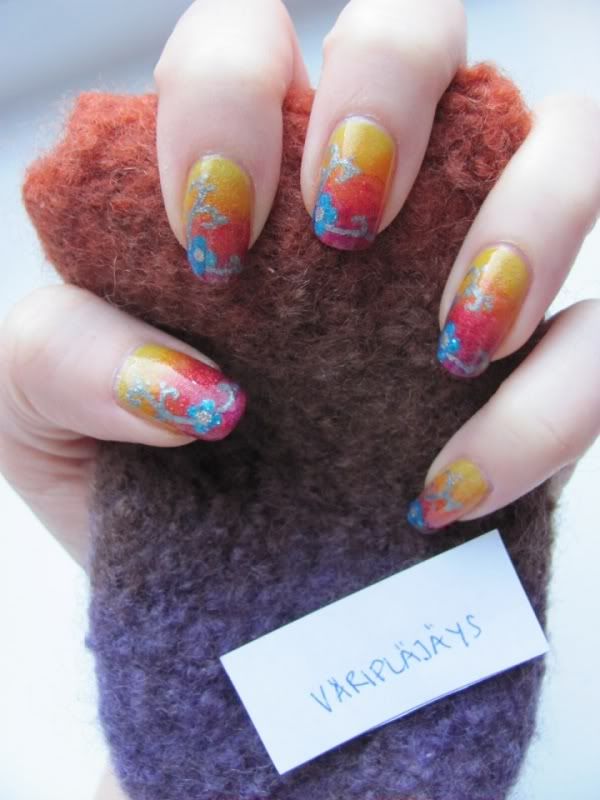 Itselleni tuosta teemasta tuli mieleen kirkkaat, selkeät värit. Kynsistä siis löytyykin suunnilleen kaikki perusvärit jossakin muodossa. Tuli varsin kesäinen fiilis talven keskelle näillä kynsillä, ja olin itsekin aika yllättynyt, että tykkäsin tästä värioksennuksesta lopulta varsin paljon.
Pohja siis liukuvärjäyksellä, kukat dotting toolilla ja kiehkurat pienellä siveltimellä maalaten.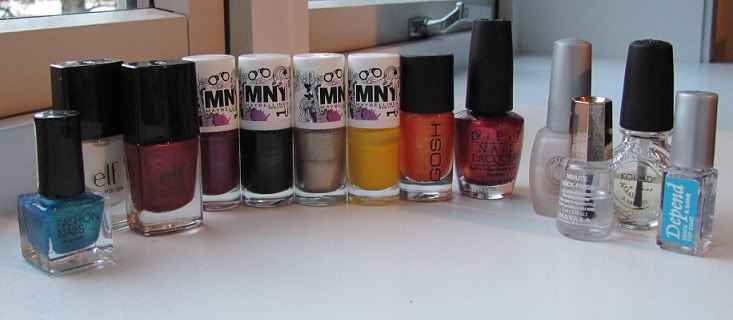 Käytin tähän lakkaukseen noin miljoonaa eri lakkaa. Lakkauksen ollessa valmis pöydälle kertynyt lakka-arsenaali alkoi huvittaa niin kovasti, että pakko oli napata koko komeudesta kuva.

Mustaa valkoisella lakkaukseni selvisi finaaliin asti, mutta voittoa ei tällä kertaa irronnut. Yritän saada senkin lakkauksen esittelyyt tässä lähipäivinä (eli kunhan herään seuraavan kerran sitten parin päivän päästä)!
Suomen reissun seurauksena matkalaukku oli palatessa täynnä kynsilakkoja ja muita kivoja kynsijuttuja (Konadeita <3) ja ihan itseä hirvittää, miten paljon tuli osteltua kaikkea... Mutta toisaalta en ole lakkoja suuremmassa mittakaavassa pitkään aikaan hankkinut, täältä en monia noista hankinnoista olisi saanut, ja ainakin kaikki tähän mennessä testatut ihanuudet ovat olleet ihan täydellisiä!
I returned from my trip to Finland tonight and I'm suuuuuper tired - I feel like I would want to just sleep for a few days. That's why I'll be a bit lazy with this english part and just give you the summary of these nails.
I took part to Sonnela's competition and the theme for these nails was "colourful" or something like that (don't think there's any real translation for that finnish word ;P ). I wanted to use bright colours and included all the basic colours in some form. I was kinda surprised that I actually liked this super-colourful-mess! Unfortunately this wasn't enough to make it to the final.
My nails for the other theme of that competition - "black on white" got to the final but I didn't win. I'll try to post my black and white nails at some point during the following days!