Ystävänpäiväksi piti tietysti keksiä jotakin tosi söpöä ja vaaleanpunaista. Lisäkriteereiksi kynsilleni asetin myös sen, että en käytä Konadeita, koska niitä on tullut viimeaikoina innostuspuuskassa käytettyä oikeastaan joka kerta, kun kynsiä olen lakannut. Näiden vaatimusten puitteissa onnistuin pysymään ja lopputulos ylitti ennakko-odotukset aika reippaasti.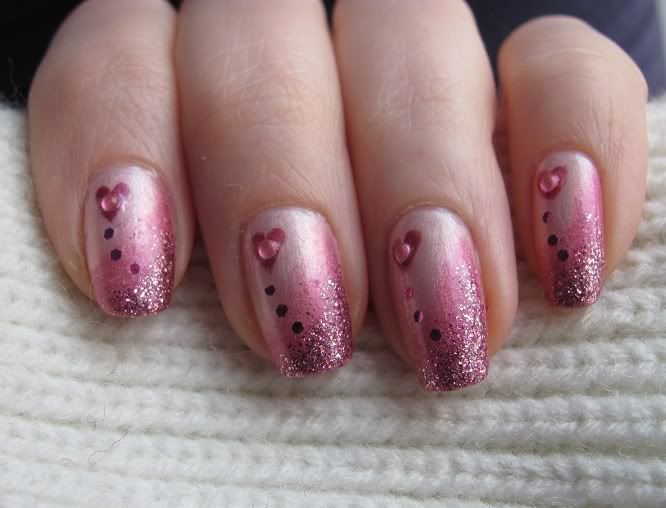 Mavala Wichita + Rose + Lumene Make Impact + WnW Sparked + ELF Sunset
Useampi lakkapullo tuli taas laatikosta kaiveltua. Pohjana Mavala Wichita ja Rose (kumpaakin yksi kerros), töpöttelyssä Lumenen Natural Coden Make Impact ja Wet n Wild Sparked. Sydämet maalasin ELFin Sunsetilla ja viimeistelyssä glitterhippuja ja vaaleanpinkkejä strasseja.
I wanted to make something cute and pink for Valentine's Day. Another criteria for this mani was that I don't use Konad's since I've been using them soooo often lately. And the result ended up being better than I expected!
I started with one coat of Mavala Wichita, followed by a layer of Mavala Rose. I used Lumene Natural Code's Make Impact and Wet n Wild's Sparked for spondgeing and painted the small hearts with ELF's Sunset.