Kirjoitin sitten blogipostauksen, julkaisin sen ja onnistuin sitten kämmäämään jotain ja poistamaan sen. Go me! Eli ei se päivä taas ihan putkeen mene, kun aiemmin vielä onnistuin nukahtamaan heti töistä kotiin päästyäni muutaman tunnin pikku päikkäreille... ._.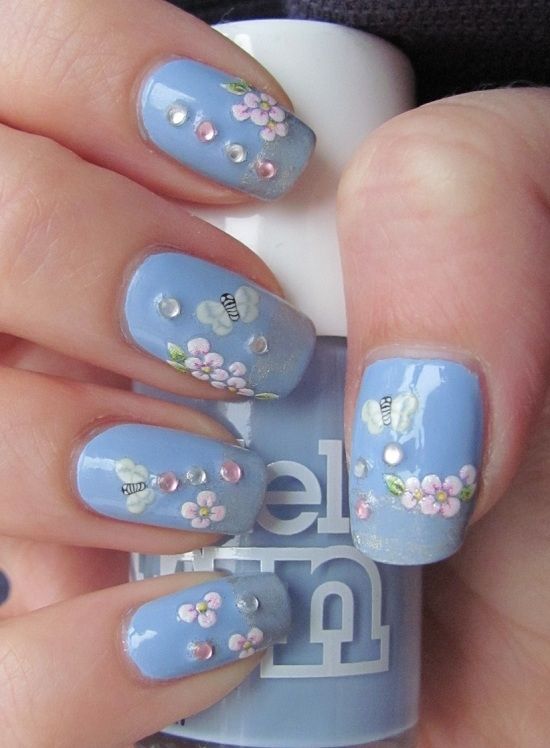 Anyways. Tämä lakkaus on tehty viimeisenä päivänä Suomessa ollessani. Tosi nopea ja yksinkertainen koristelu tarroilla, fimoilla ja strasseilla, mutta tykkäsin tästä ihan hurjan paljon! Pohjana Models Ownin Beth's Blue - mun makuun ihan täydellisen sävyinen lakka! Kärjissä MO:n Smash-Up Silver, joka oli jälleen yksi crackle-pettymys. Tosi huonosti pigmenttiä, eli se hädin tuskin näkyy BB:n päällä :(
I wrote "this" post already hours ago and published it but somehow I managed to delete it later.. *sigh* Not my day today - I fell asleep after I got home from work and had a "small" nap for a few hours.. Better day tomorrow I hope!
This is one super easy and quick mani but I liked it a lot! The base is Models Own Beth's Blue - just lovelovelove this colour! I have MO's Smash-Up Silver -crackle on the tips (such a disappointment it was, can barely see it on top of BB :( ) The decorations are butterfly fimos, flower stickers and rhinestones.