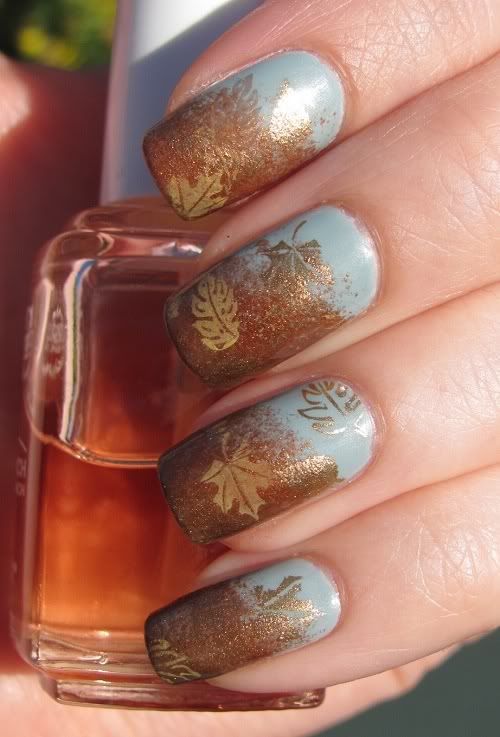 Oli taas visio syksyisestä lakkauksesta. Eikä taas mennyt ihan putkeen.
Töpöttelyväri osoittautui liian tummaksi mun leimauskelpoisille syyssävyisille lakoille. Joskin muuten tuo töpöttelyssä käyttämäni värisekoitus oli ihan täydellinen, pääsee combo käyttöön jatkossakin. Ja noista lehtikuvioista tykkäsin myöskin kovasti. Niille pitää vain keksiä joku kivempi pohja nyt.
Näissä kynsissä oli kuitenkin jotain, mikä miellytti kovasti mun silmää. En tiedä mikä se oli, eikä se ainakaan näin kameran läpi ole kuviin oikein välittynyt. Saattoi olla kyllä ihan jo sen päivän yleisfiiliksestä, kun töissä oli helppoa, ulkona 25 astetta lämmintä ja kiva auringonpaiste - ja sain vain istuksia kaksi tuntia puistossa auringossa suunnittelemassa tulevia lakkauksia
(..minkä seurauksena itseasiassa syntyikin jo yhden tajuttoman kivat kynnet, mutta niistä lisää sitten joskus..)
.
Ja kirppisostajille tiedoksi, että kaikille on nyt lähetetty sähköpostia - jos ei ole tullut perille, niin ilmaiskaa siitä kommenttilaatikossa / sähköpostilla
(osoite löytyy tuolta sivupalkista ja profiilista)
.
Mutta nyt olisi laukku melkein pakattu ja illalla suuntana lentokenttä. Ja yön yli Helsingissä nukuttuani matkaan Kuopioon - jännä nähdä, miten mahtaa VR taas toimia! Aina innostaa ihan yhtä paljon se melkein viiden tunnin junamatka!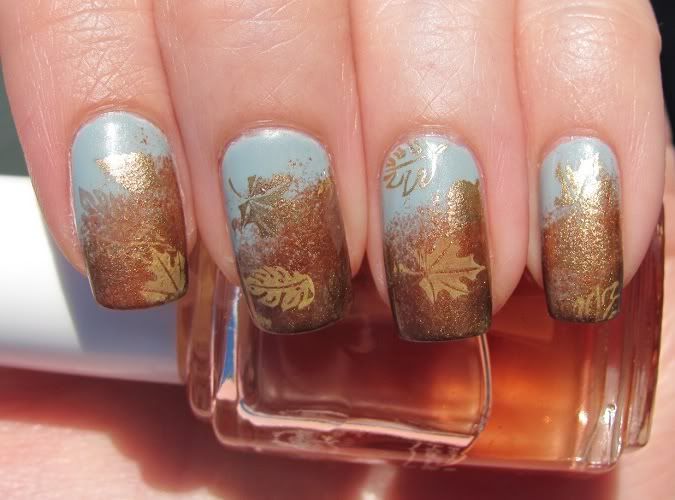 I tried to do an autumn mani but it didn't go quite as planned.. the colour I used for sponging ended up being too dark for the autumn-shade colours I used for stamping. Though otherwise I really loved that colour and will definitely use it again for something else. And the leaves were great. I just need to find some better base colour for them now.
There was something in this mani I liked but I'm not quite sure what it was. It doesn't look that good in the pictures but it was nice in the bright sunlight! :)