Tämä lakkauksen tein Yonan Konad -kilpailuun. Aluksi mietin monenmoista hienoa taustaa, mutta päätin lopulta pitää leimaukset pääosassa, ja yritinkin saada konadoinnit tehtyä mahdollisimman tarkasti ja siististi (ja ihan hyvin siinä omasta mielestäni onnistuinkin onnistuinkin).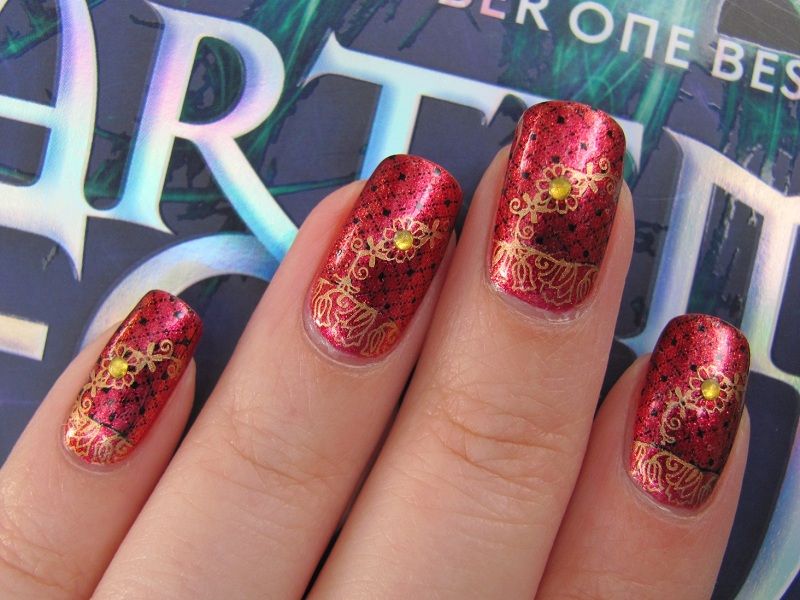 Pohjalla OPI The Show Must Go On, jonka päälle leimasin ensin ruudukkopitsin Konadin mustalla erikoislakalla sekä Depend 224:lla Konadin m71 -laatasta. Ruudukon päälle leimasin vielä kukkaköynnöksen samaisella Dependillä laatasta m40. Kukkien keskelle lisäsin vielä pienet kultaiset strassit.
Ja olen ihan tyytyväinen siitä, että nämä eivät ainakaan omasta mielestäni näytä pelkästään jouluisilta, vaikka tässä lakkauksessa pääväreinä onkin kulta ja punainen :3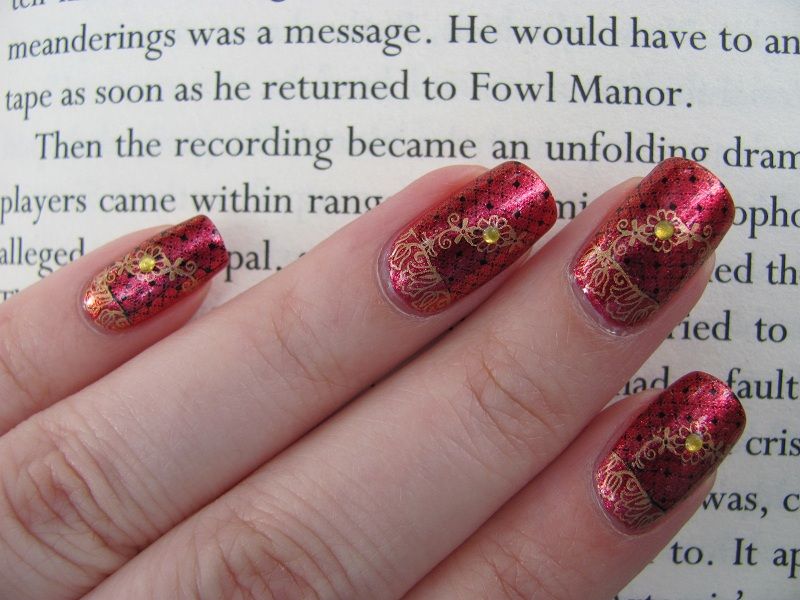 On this mani the main point was on Konads - I tried to do the stamping as clean and exact as I could and I think I succeeded quite well on that.
The base is OPI The Show Must Go On. I started with stamping the lace from Konad m71 -plate with Konad Special Black and Depend 224. Then I used the same Depend polish to stamp the flower twine from m40 -plate and added small golden rhinestones in the centre of the flowers.