Nyt on selvitty takaisin Norjan puolelle ja yhden päivän asettumisen jälkeen olisi noin miljoona asiaa blogiin postattavana! Aloitetaan kuitenkin massiivisella ostosvideolla, jonka kuvasin heti Suomeen päästyäni - vanhempien luona oli kolme pakettia odottamassa avaajaansa! Siellä oli myös yksi innokas apulainen pakettien keskellä hyörimässä, varmistamassa etten missään nimessä saisi rauhassa ottaa kuvia uusista aarteistani.
Tällä kertaa sain onneksi kameran tarkennukset kohdilleen ja manuaalizoomi toimi kiitettävästi. Kuvaa rumentamassa nakut kynnet, mutta yrittäkää olla välittämättä niistä!
Ja Uptown Girlin kanssa mainituista yllykkeistä Sonnen postaus juuri kyseisestä lakasta löytyy
täältä
. Panda ei juuri tätä lakkaa esitellyt, mutta mustikkamaitolakkainnostukseen
(sanahirviö!!)
vaikutti suuresti
tässä
postauksessa esiintyvä Parlez-Vous OPI?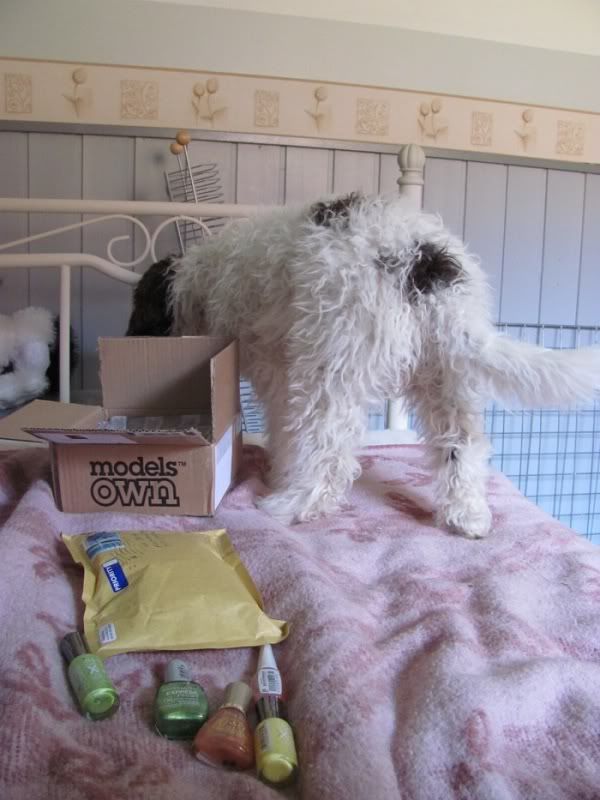 Ja lopuksi apuri oli onnessaan saadessaan Models Ownin laatikon omakseen.
Lisää haalimisia on vielä luvassa, sillä eihän tästä reissusta todellakaan selvitty näin vähällä...!
Tuntuu että olen postannut viimeaikoina ihan luvattoman vähän kynsikoristeluita, mutta huomenna yritän saada taas yhdet kynnet esille! Muutamat koristelut odottavat postaamista ja pää on täynnä ideoita, joten kyllä tämä tästä kunhan taas vauhtiin päästään! :)
I visited my parents in Finland and had 3 packages waiting for me there! I ordered nail stuff from finnish online store and blog sale and even had my Models Own package sent there to avoid extra custom fees.. ;P I made a video about my new treasures but I still wasn't comfortable enough to speak english - apologies for the finnish-only -talk!
The dog is my parents' new dog who was excited about the packages and nail polishes too. She made sure I wouldn't be able to take too many pictures of my haul! And she was happy when I gave her the Models Own -box afterwards.