Kakkosversio mun syksyisistä lehdistä meni enemmän putkeen kuin se ensimmäinen versio. Näidenkin kanssa kyllä väännettiin vähän kättä ja lopulta tyydyttiin poistamaan yksi yksityiskohta, kun se ei vain halunnut onnistua.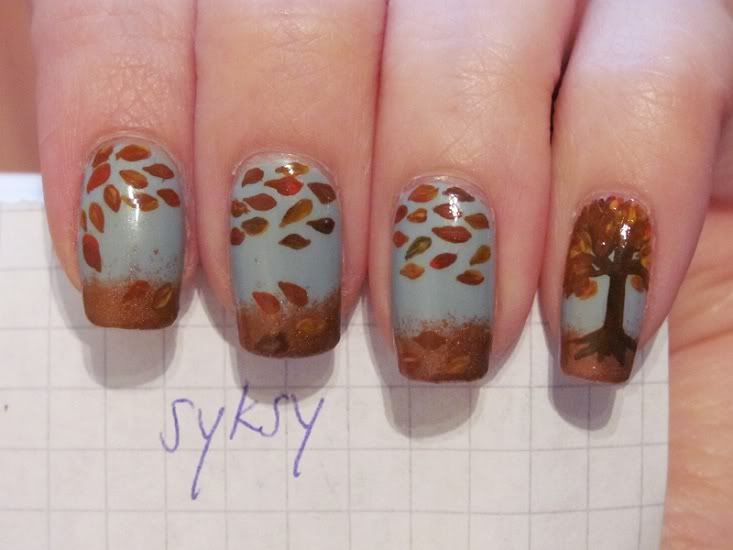 Pohja on samaa sarjaa
edellisten
kanssa, koska tykkäsin niissä tuosta väriyhdistelmästä kovasti. China Glazen Sea Spray, jonka päälle töpöttelin "maan" Hot Looksin Juicyn ja Wild and Crazyn Lollipopin sekoituksella
(ja mun ymmärrykseen vain ei uppoa, että miksi ruskea lakka on nimeltään Lollipop...)
. Sitten kaivoin akryylimaalit ja tein puun rungon ruskeiden maalien sekoituksella. Ja sitten sekoittelin ruskeita ja oransseja ja vihreitä ja keltaisia ja punaisia eri tavoin pienen siveltimen kanssa ja tökin lehtiä kauniiksi sekamelskaksi maahan ja ilmaan. Senverta on kyllä pakko itseään kehua, että näin jälkeenpäin kuvia katsoessa jouduin vain ihmettelemään, kun nuo lehdet näyttivät niin eläviltä ja oikeilta ruskaväreineen. Näin pieniä yksityiskohtia ei aina livenä huomaakaan!
(Joskus sentään näin päin, että kuvissa kynnet on edukseen, sen sijaan että kaikki aiemmin huomaamatta jääneet virheet hyppäisi silmille...)
Näillä kynsillä voitin ensimmäistä kertaa lakkauskilpailunkin, eli
Meikkileikkejä
-blogin syksyisen lakkauskilpailun!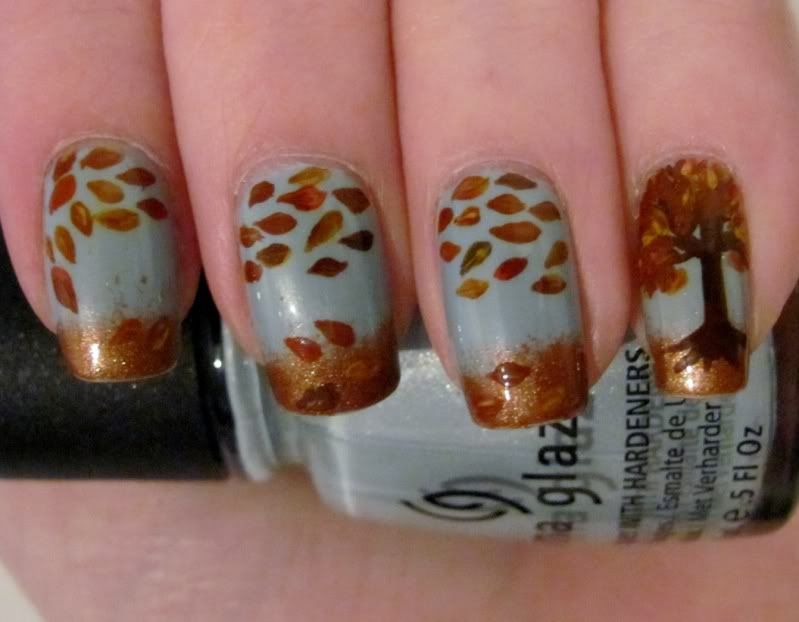 This is the second version of my autumn mani. It has the same colour theme as the previous one and the "basics" are the same - the base is China Glaze's Sea Spray and I used the same polishes for sponging (Hot Looks - Juicy and Wild and Crazy - Lollipop). The tree and the leaves are painted with acrylic paints.