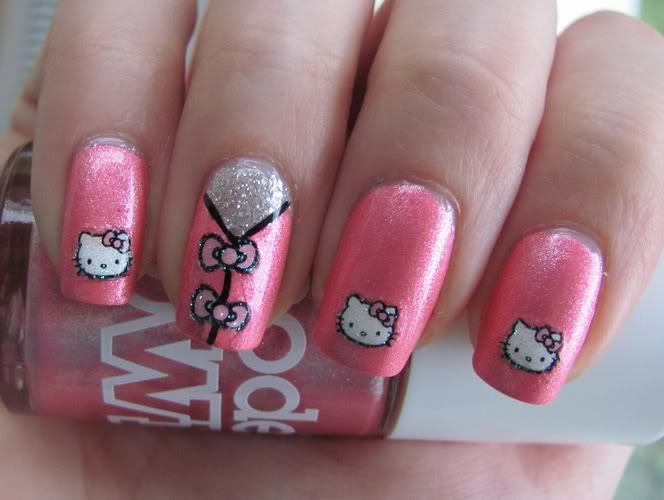 Kovat oli odotukset Models Ownin Lili's Pinkiä kohtaan, mutta ei se sitten ollutkaan oikein mieleinen. Heti pullon nähdessäni huomasin sen olevan tosi pinkki ja kiekolle swatchaus tämän vahvisti. Netistä metsästämissäni swatcheissa se näytti jotenkin paljon vaaleammalta, vaaleanpunaiselta. Sinällään tämän pinkkiys ei pitäisi olla mikään ongelma - onhan mulla pinkkejä lakkoja, joita tykkään käyttää! Mutta tämä vain on juuri sellaista sävyä, että se ei vaan uppoa.. Varsinkin tämän ollessa kynsillä oli koko ajan sellainen olo, että pakko päästä lakkaamaan kynnet uudestaan nyt eikä heti. Päivän sinnittelin näiden kanssa, mutta ei se pinkki missään vaiheessa muuttunut yhtään mieleisemmäksi. Ehkä se ensi kesänä tuntuisi mieleisemmältä...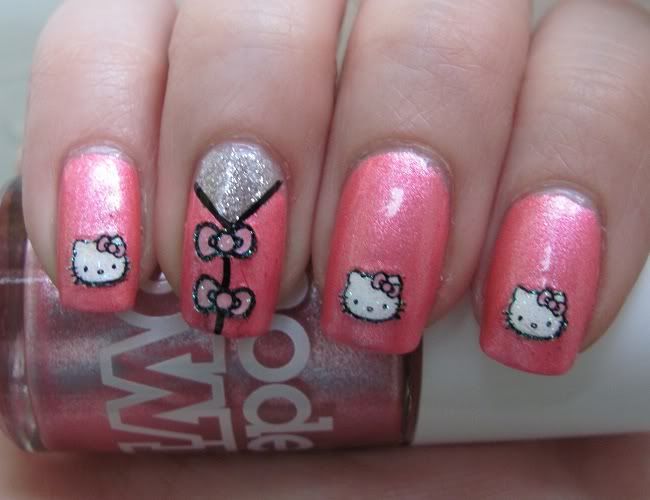 I was really excited about Models Own Lili's Pink when I made my order to MO. As soon as I saw the bottle I noticed it looked a lot darker and brigter pink than what I expected. On the swatches I had seen it looked lighter and softer. I still had to try it on my nails but that didn't make it any better.. I managed to survive for a whole day and then I couldn't look at this any longer.. I guess I have to see if I'll feel like using it more again on next summer.
The decorations are Born Pretty Store's cute Hello Kitty -stickers that I ordered for free a while ago when they had one of those giveaway campaigns. On ring finger I used MNY 653 under LP and lined it with black Golden Rose nail art polish.