Sain jonkun aikaa sitten eBaysta uusia 3D koristeita, ja niitä piti tietysti päästä taas heti kokeilemaan. Ja lopputuloksena taas melkoinen blingbling -överi - mutta kaunis sellainen!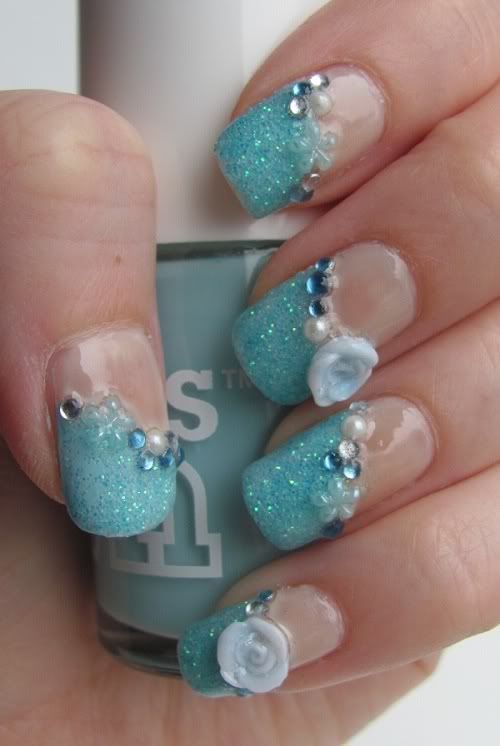 Ruusuhyrrän kanssa lähdettiin siis penkomaan laatikoita ja etsimään yhteen sopivia värejä. Vaaleansiniset ruusut vetivät puoleensa kaikkea pientä kivaa, ja siitä sitten lähdettiin rakentelemaan.. Visio vinolakkauksesta oli aika selvä heti alkuunsa, eli pohjaksi pääsi Yves Rocherin Pastel Rose ja vinosti lakattu Models Ownin Baby Blues. Baby Bluesin päälle laitoin valkoisesta ja vaaleansinisestä glitterdustista tehdyn sekoituksen. Rajalle sitten mallailin kussakin kädessä kahteen sormeen nuo ruusut ja lisukkeeksi vaaleansinisiä kukkakuvioita, valkeita helmenpuolikkaita sekä kirkkaita ja sinisiä strasseja (1,5mm ja 2mm).
Ruusujen kiinnityksessä oli odotetusti hieman ongelmia, sillä heti paketin avattuani huomasin niiden olevan pehmeää kumia tms.. Tilatessa olin olettanut näiden olevan ihan perus akryylikoristeita, mutta ei sitten ihan ollutkaan.. Yritin kiinnittää lakalla ja pikaliimalla, mutta ei nuo epelit suostuneet jäämään edes sillä liimalla paikoilleen. Lopulta sain ne asettumaan kuorruttamalla ne parilla päällyslakkakerroksella - ja sittenkin ne lähtivät parista sormesta irti jo seuraavana päivänä.
Nämä kynnet laitoin myös Sanna Taran lakkauskilpailuun, mutta en päässyt edes tuohon top25 äänestykseen :\
I wonder if there can ever be too much bling on my nails for it to feel too much for me.. Not this time atleast!

I wanted to do a bit "over the top" mani with loads of rhinestones and glitter. Diagonal mani felt like a good choice so I started with Yves Rocher's Pastel Rose and did the diagonal tips with Models Own's Baby Blues. I mixed light blue and white glitter dust to get the right shade of glitter for the tips. And then it was just about adding white pearl halves, light blue flower decorations and clear and blue rhinestones to line the tips. Took a lot of top coat but was worth it! It looked really pretty in sunlight!