Tajusin taas, että en ole tehnyt kynsille leimauskoristeluita tosi pitkään aikaan. Jostain syystä käy vaan aina niin, että kun alan miettiä leimaustarvikkeiden kaivamista laatikosta, tulee se "no mutta emmä nyt jaksa nähdä niin paljoa vaivaa.." ja mieluummin koristelen kynnet sitten vaikka akryylimaaleilla. Teettääkö leimaaminen sitten niin paljon vaivaa - en tiedä, mulla varmaan vaan tekee se kaikki tilan tarve ja sotkut mitä tulee, kun leimalakat on pitkin sormia ja pöydän pintaa.
(Teen siis kynsiä tietokonepöydällä, ja leimaamista varten pitää sitten siirrellä näppäimistöä ja etsiä paperia pöydän suojaksi ja vaikka mitä..)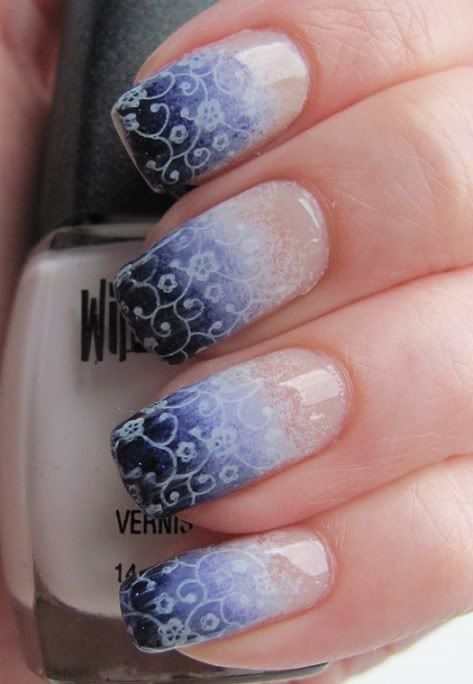 Tällä kertaa halusin violetin liukuvärjäyksen Viva la Divan 121:lla ja Wild and Crazyn Montanalla (näitä kahta sekoittelin eri tummuuksiksi). Jotain suurempaa ja hienompaa oli taas tarkoitus tehdä, mutta en ollut ihan tyytyväinen liukuvärjäykseen ja laitoin sitten vain Konadeilla kukkakuviot päälle. Ja nekin vielä päällyslakka sotki. Kuviot Konad m73 -laatasta Konadin valkoisella erikoislakalla.
I haven't been using my stamping plates for ages but this time I thought I could try it again to decorate a gradient mani I wasn't quite happy with. The gradient effect was made with Viva la Diva's 121 and Wild and Crazy's Montana (mixed these two to get different shades). Stamping from Konad m73 -plate with Konad's White special polish.