Mä en vaan ymmärrä näitä crackle lakkoja.. Kaikki muut ihkuttaa niitä ihan kynpillä ja kaikki tekee niillä ihan tajuttoman hienoja koristeluita, mutta entäs kun itse isken moista kynsille.. Ei se sitten mennytkään niin kuin elokuvissa.
OPI The One That Got Away + Isadora Black Graffiti
Mun Isadoran musta crackle menee klimppiin ja klönttiin ja sotkuun ja muhjuun heti kun avaan pullon korkin. Ja sitten kun laitan sen kynsille, tuntuu se alla oleva väri muuttuvan noin 9000 astetta tummemmaksi, ihan kuin puolet siitä mustasta jäisi siihen lakan päälle. Ja kaikki muut crackle taikurit vetelee cracklet sivuttain ja poikittain ja väärinpäin ja näyttää niin kovin hyvältä niin mun sivuttain vedetyt cracklet ei mene sinne metsäänkään.
Yritin vielä taiteilla mustalla akryylimaalilla jotain jännää cracklen kaveriksi, mutta sittenhän se kokonaisuus vasta tummaksi menikin.. Tykkäsin enemmän tuosta vähemmän koristellusta versiosta - kerrankin!
Onneksi sentään OPI:n The One That Got Away on uskomattoman ihana ja pelasti tämänkin lakkauksen välittömältä poistolta.
...ehkä tää crackle ei vaan ollut se mun juttu...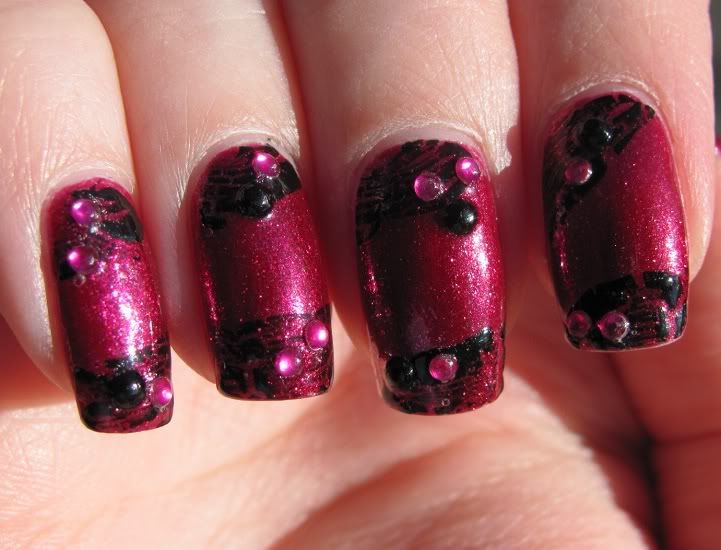 I don't seem to get the awesomeness of crackle polishes. Everyone else manages to do some really amazing things with them but every time I use crackle on my nails it just gets... messy. I even tried adding some "art" with black acrylic paint but that just made it worse - I liked the "simple" version with just the crackle more after all.
Atleast OPI's The One That Got Awayis awesome and saved this mani from instant removal!
...I guess crackle polish just isn't my thing...