Poden ihan kamalan huonoa omaatuntoa, kun olen postannut niin harvakseen taas :( Työt ja töiden takia päivärytmin muuttuminen näin alkuunsa aiheuttavat hurjan väsymyksen - kynsiä olen kyllä lakkaillut, mutta virta loppuu yleensä siinä vaiheessa, kun kuvia pitäisi alkaa käsittelemään. Täällä on vielä niin kamalan synkkää ja harmaata koko ajan, että kuvien laatu ei ihan miellytä omaa silmää ja siksi yleensä tulee kuvia muokatessa sellainen fiilis, että ei näitä kyllä kehtaa edes postata.. Nyt olen yrittänyt saada useammat kuvat hoidettua kerralla, joten josko ne alkaisivat päätyä blogiinkin vähän helpommin taas!
Tällä hetkellä kynsillä on hurjat 3D-/strassiöverit, joita rakastan ihan kympillä, mutta koska niistä ei vielä ole kuvia napsittuna, esittelen käsinmaalaussuherrusta viime viikolta! Tunnun tällä hetkellä jumittavan tietyn parin lakan "koukussa" jostain täysin itselle tuntemattomasta syystä, ja kuvia selatessa tulee sellaisia "Ai mulla oli tässäKIN tää lakka" -elämyksiä. Yksi näistä lakoista on Models Ownin Baby Blues, joka siis on tässäkin lakkauksessa pohjana (ja myöskin tällä hetkellä kynsillä, köh).
Baby Bluesin päälle tein kukkasia (jota mun mies intti tähdiksi joka kerta, kun se näki tän lakkauksen) akryylimaaleilla (musta/valkea) ja Wet n Wildin Bijou Bluella. Töpöttelin "tyhjälle" alueelle vielä Wild and Crazyn Wild & Desperatea ja laitoin hippusen glitterdustia ja hopeisia microhelmiä kunkin kynnen suurimman kukan keskelle.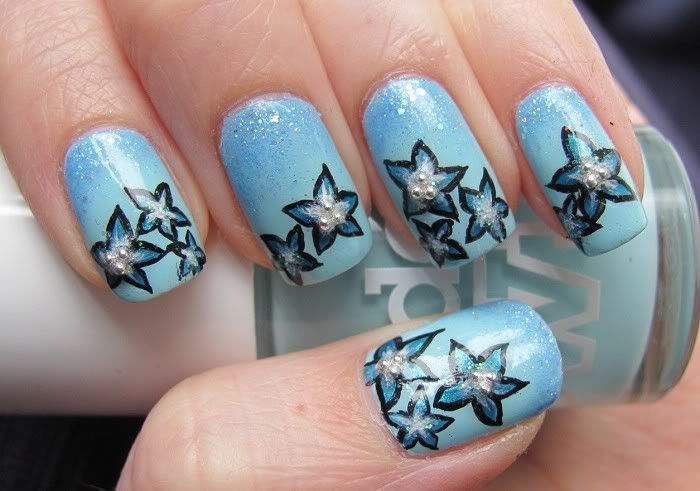 I feel like I've been using the same few polishes all the time lately! One of those polishes is Models Own Baby Blues wich is the base on this mani too (..and on the one that's currently on my nails..). The flowers are painted with acrylic paints (black/white) and Wet n Wild Bijou Blue (my bf kept saying they are stars every time he saw this mani :( ). I sponged Wild and Crazy's Wild & Desperate to the "empty" area and added a tiny bit of glitter dust and micro beads to the middle of the biggest flower on each finger.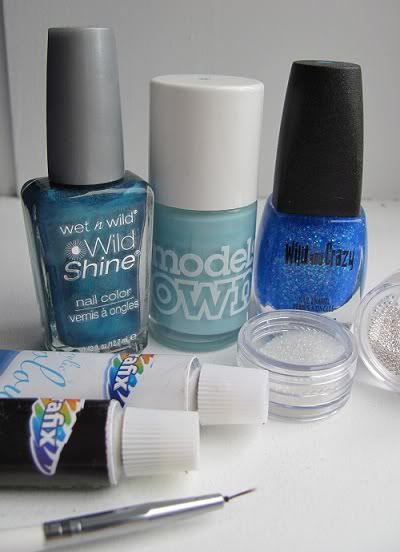 Wild and Crazy - Wild & Desperate
acrylic paints in black and white
glitter dust, micro beads