Vaihteeksi lähdettiin tekemään kynsiä ilman kunnollista suunnitelmaa, sillä "jännä nähdä mitä tästä tulee" -asenteella. Ja ihan kivat kynnet tuli - mutta eihän mustan ja pinkin yhdistelmällä voi epäonnistua.
Pohjana Wet n Wilding Night Prowl, jonka päälle lähdin rakentelemaan mututuntumalta glitterihärdelleitä. Ensin kirkkaalla lakalla vähän sinne tänne sohien ja sormi pinkkiä glitter dustia sisältävään purkkiin. Sitten ohuella siveltimellä Models Ownin Magenta Divinea "rajaukseksi"
(MD sopii muuten tosi hyvin yhteen Night Prowlin kanssa, ennenkin olen tätä comboa käyttänyt)
. En ollut ihan tyytyväinen dustin väriin, joten kaivoin laatikosta Wet n Wildin Sparkedin ja Viva la Divan 72:n, joita sohin aika sokkona dustin sekaan ja päälle ja väliin ja... Sekaan mahtui vielä parit strassit, ja näin oli taas random glitteröverit valmiina!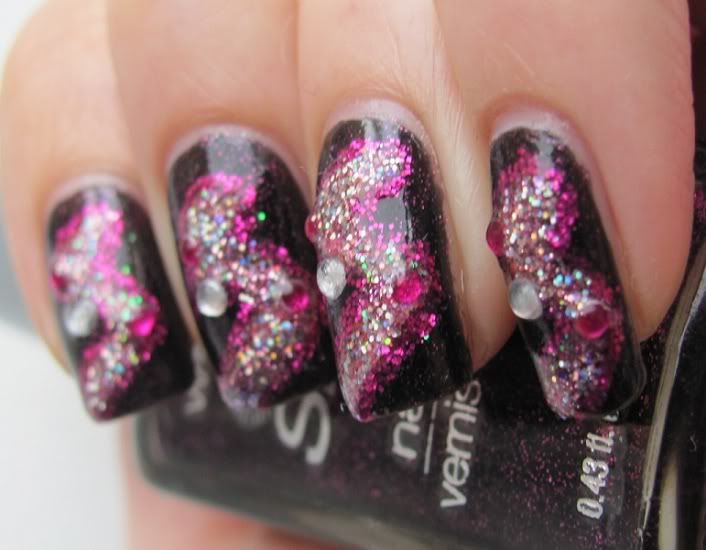 Tänään näkyi taivaalla jopa sellainen harvinainen valoilmiö (myös aurinkona tunnettu), joten olin kärppänä kameran kanssa napsimassa uusia kuvia lakkauksesta vielä ennen poistoa - on se vaan paremman näköinen kunnollisessa valossa, tulee hologlitter ihan eri tavalla esiin!
Olin kyllä varsin yllättynyt siitä, että kärjissä ei näin parin päivän jälkeen ollut yhtään kulumaa! Mulle on jäänyt tunne WnW -lakkojen huonosta pysyvyydestä.. Olen tähän mennessä käyttänyt niitä Cesarsin pikakuivattajan kanssa.. nyt olen kuitenkin tullut siihen tulokseen, että tuo pikakuivattaja "kutistaa" joitakin lakkoja (eli oikeastaan kaikki WnW lakat, muun muassa) ja tällöin näyttää siltä, että kynsissä on kauhea kärkikuluma jo heti ensimmäisenä päivänä
(tai heti seuraavana aamuna illalla lakkaamisen jälkeen, kuten edellisen kerran Night Prowlia käyttäessä oli)
. Seche Vite ei onneksi ainakaan tätä WnW:a kutistanut, joskin se sitten tekee sitä joidenkin muiden lakkojen kanssa... ei ole helppoa tämä elämä pikakuivattajien kanssa!
So much glitter AGAIN! I did some "no idea what to do but let's see what it will become" -decorating on my nails and got this nice mani as result. I thank the colour combo - just can't go wrong with black and pink!
I painted my nails with Wet n Wild's Night Prowl, did some random pattern with a clear polish and bumped my nail in to the jar of pink glitter dust. Then I lined the glittery part with Models Own's Magenta Divine. I wasn't quite happy with the shade of my glitter so I took Wet n Wild Sparked and Viva la Diva 72 and added some more bling. And of course I couldn't leave it without some rhinestones. My nails are going to hate me after all these glitter overdoses...