Kynttä Pidempää
-blogissa on lakkauskilpailu teemalla
Morsiuskynnet
. Kisassa on tällä hetkellä menossa alkukarsinta äänestys, josta kolme eniten ääniä saanutta lakkausta pääsee sitten tarkan tuomariston arvioitavaksi. Kilpailuun osallistuvia kynsiä pääsee tarkastelemaan
täältä
- äänestys löytyy blogin sivupalkista. Ja oma lakkauksenihan löytyy numerolla 10 :3
Morsiuskynnet oli ihanan helppo ja selkeä aihe, joten kynsiä oli kiva alkaa suunnittelemaan! Ensimmäinen asia, mikä minulle morsiuskynsistä tuli mieleen, oli helmiäisvalkoinen lakka (e.l.f. - Pearl). Pohdin värivaihtoehtoja kokovalkoiselle koristelulle, ja sainkin idean sitten omasta kihlasormuksestani, joka on sekä valko- että keltakultaa.
Pohjalle laitoin siis helmiäistä valkoista elfin Pearl lakalla. Sen kaveriksi laatikosta käteen sattui aika vähäiselle käytölle jäänyt elfin Moonlight, johon rakastuin nyt taas ihan täysin. Se on aina kiva löytää omasta lakkakokoelmasta näitä unohdettuja helmiä! Moonlight on tuollainen vaalea kultainen - eniten kuvaava olisi ehkä shampanjan värinen. Sillä töpöttelin liukuvärjäyksen, ja syvyyttä antamaan lisäsin kärkiin vielä kultaista suosikkiani MNY 445:ta. Koristeeksi löytyi kultaisia perhosia ja sydämiä. Kaikenkaikkiaan lakkaus on varsin yksinkertainen, mutta mielestäni siltikin riittävän näyttävä - huolisin tällaisen lakkauksen omiin kynsiin, sitten jos joskus omia häitä tullaan juhlimaan... ;)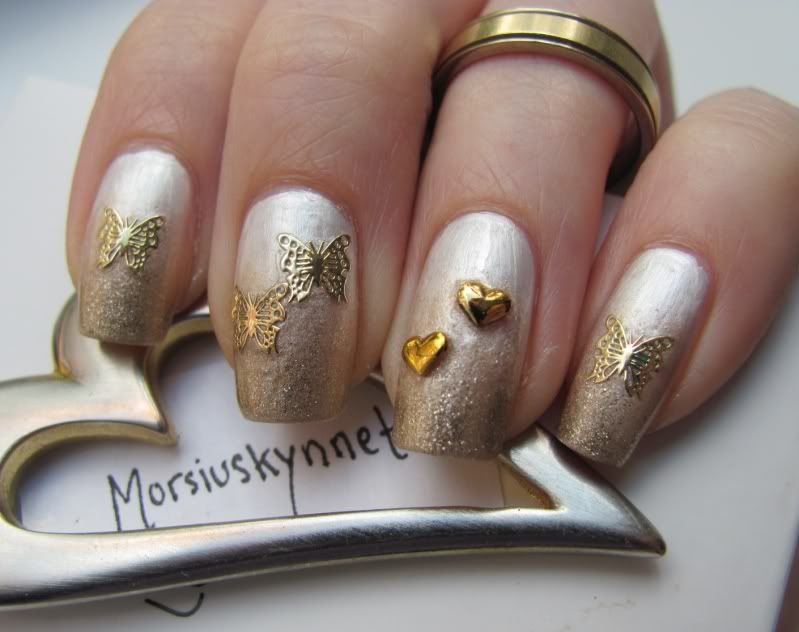 T
his is my mani for
Kynttä Pidempää
-blog's nail art contest with the theme
Bridal nails
. Currently the contest is on voting stage and the 3 manis with the most votes will go to the "finals" where the blog keeper decides the winner. You can see all the entries
here
and the voting can be found on the blogs sidebar. And my mani is number 10!
Bridal nails was a clear and easy theme and it was fun to start planning the mani. The first thing that came to my mind was pearl white and from there I found the colour theme from my own ring which has yellow and white gold. First I painted my nails with elf's Pearl, sponged elf Moonlight on top of it and added some MNY 445 to the tips. I used golden butterflies and hearts for decorations. This mani was fairly simple but I think it's still very elegant and snazzy - I would like to have this kind of mani on my nails on my wedding day, if that's ever going to happen... ;)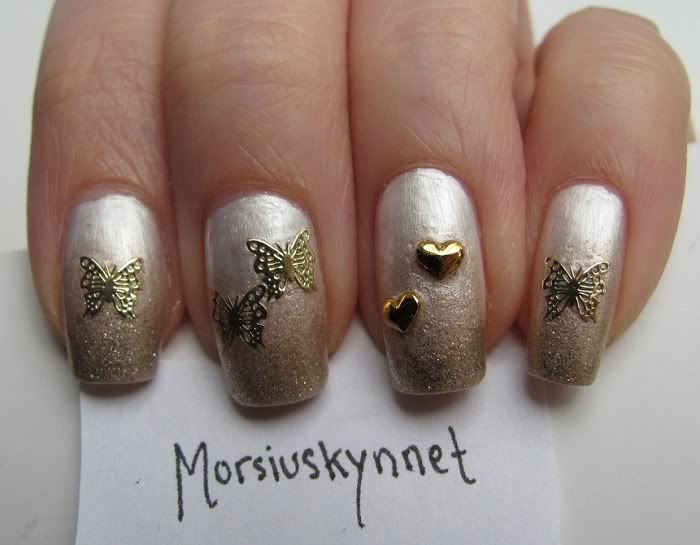 kultaiset metalliset perhoset, kultaiset sydänkoristeet
// golden butterfly and heart shaped decorations